Made some friends on the train this morning…
Bit rude.
Guys..? What did I say?
Thought it was a bit shitting RUDE strange that they kept stopping mid conversation to look out the window. "Yeah I usually get the later train but the clocks have… erm… Guys?… hello? WHAT ARE YOU LOOKING AT NOW"
Took me just under two minutes to realise that they were train spotters (good save brain, nice job, have a reward… RYAN GOSLING IN HIS PANTS. Ok that's enough) but by then we were already 'train friends' and you can't really divorce train friends unless you're willing to put in the work.
The most common divorce proceedings include:
1) "Dum di dum, oh wow, this is my stop… that came round fast… see ya later train friend, hopefully catch you next time… just getting off the train… bye! Dum di dum… and… on the platform… and… out of sight… and… RUN LIKE HELL ONTO THE NEXT CARRIAGE" or
2) "Can you save my seat I'm just going to the toilet…" Or am I? I generally prefer option number 1, because even in the middle of a divorce, I don't really like people thinking about me going to the toilet. (STOP IT!)
So, just me and the lads, out on the open road. Bit awkward. Not the best at conversation. Quite a bit of weather chat. I asked if they had seen anything good today. "No." Asked if they write down every train number. "Of course not". Asked if they took pictures of the trains. "Yes. When we've got enough time." Asked if they wanted me to take a picture whilst they were jotting down the numbers. "No." And that put an end to it. Nearly told them about Google image search but if they're not willing to have a temporary third spotter then I'm not willing to be their 'between train' entertainment. Good DAY.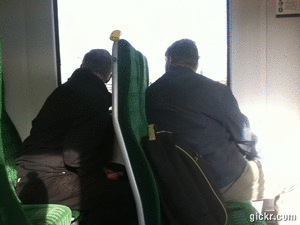 Good story.
Apologies for not updating for over a month (which I know is about 4 years in Internet Hours). Truth is, ever since becoming self-employed "oh my god are you self employed? you should have said…" I have no spare hours. Which is why the highlight of my week is spotting train spotters and making a teeny tiny picture frame for my desk. Pretty cool, huh? Huh?